BE Undergraduate Newsletter
Announcements
Hi everyone,
My name is Nhan Nguyen, and I'm a sophomore here at UCSC. My proposed major is Computer Science: Computer Game Design. I have been programming since I was in 9th grade, and I have a deep passion for this subject.
For the past 2 years, I have been very devoted to a field in Computer Science called Competitive Programming (CP for short). Throughout the course of 2 years, Competitive Programming help me explore many programming techniques and algorithms that catapult my programming skills to the next level (to name a few simple ones: Binary Search, Two Pointers, DP). As my skills steadily improve, I found myself in many different coding contest from large companies like Google, Facebook, etc (my most recent one being Facebook Hacker Cup). Being involved in the Competitive Programming community for a long time also exposes me to a very prestigious contest called ICPC ( https://icpc.global/), and from there I realized that one of my biggest dreams is to compete in the ICPC.
So I got to work looking for a UCSC club that covers the topic, and I was disappointed to find that our campus lacks such a club. Since UCSD and most UCs has such a club and we don't, I have started and currently am running a new club that specializes in Competitive Programming here at UCSC. The end goal of this club is to improve fellow programmers personal coding skills with a variety of problems to participate in the once-in-a-lifetime ICPC contest, compete in other prestigious contests like Facebook Hacker Cup or Google Codejam, and also gearing them up with the necessary skills to ace coding interviews.
I am looking for advisors and executive members for this club. If you are interested in Competitive Programming and want to support what I'm doing or being an executive/advisor in general, please message me through my UCSC email: nhtrnguy@ucsc.edu, or you could join the clubs' discord here at: https://discord.gg/aw8EqPCbWy
P.S: If you don't know what Competitive Programming is you can see this video for reference https://www.youtube.com/watch?v=ueNT-w7Oluw&t=1s
---
Learning Support Services is reaching to share that tutoring sign ups for students will open this Friday, January 14th at noon!
LSS's mission is to provide UCSC undergraduate students with inclusive learning sessions facilitated by advanced peer educators to build strong foundations for success while engaging with a community of learners. With your help, we can strive towards this goal!
How do students sign up to reserve their spot?
After Wednesday, January 14th at Noon students can sign up through our tutoring portal, Tutor Trac. Please direct students to our website for written instructions and video tutorials to assist them in navigating the system.  Please note that all tutoring will take place over zoom this quarter.

If you have questions after reviewing our website, please email lss@ucsc.edu or visit the LSS Front Desk! Our current hours are remote support through Zoom (Monday - Friday 9-6pm).
 
---
Reader/Tutor Needed for CSE 102: Spring 2022
Undergraduate students, who have taken CSE 102 at UCSC, and interested in getting hired as a reader/tutor for CSE 102 during Spring 2022 for 120 hours for the whole quarter, please send an email to the instructor Suresh Lodha: lodha@soe.ucsc.edu with "Subject: Interested in Reader/Tutor Position for CSE 102: Spring 2022". Please include the information on the quarter you took CSE 102, the name of the instructor, and the grade obtained. Students, currently taking CSE 102 during Winter 2022, are also eligible, provided they are on a track to do extremely well in the course.
---
Info Sessions: Highlights
We are happy to announce that last week's info sessions (2/9 and 2/10) were a great success! 
Thank you to everyone who attended! And for those of you who were not able to make it, here's a quick overview of what was discussed:
Who are we?

Meet the team!

Mission & Values

What do we do?

Our goals & initiatives this year

What's in it for you?

General & industry-specific events

Leadership positions

Exclusive WIB-member opportunities
Who are we?
UCSC Women in Business (WIB) is a new student organization on campus that is holistic with a balanced focus on developing a strong business acumen. WIB welcomes students from all majors and backgrounds to join a community built on passion and wonder for business related problem-solving.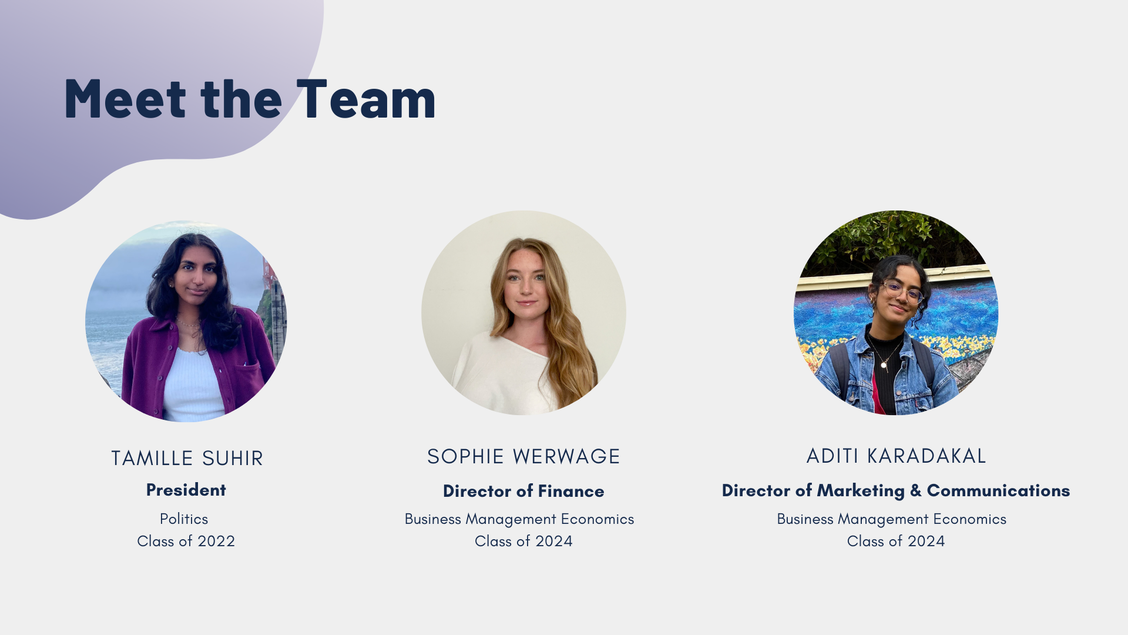 Mission & Values
Our mission: to (1) redefine "business" as a way of thinking; (2) develop a strong business acumen; (3) help students navigate their preferred industry
What do we do?
As a new student organization, we are focusing on three major initiatives this year:
Building a strong professional network; corporate + academic partners

Forming our Industry Interest Groups

Launching WIB Review
What's in it for you?
As a member of UCSC Women in Business, you can explore a wide variety of career pathways, internships, externships, among other professional opportunities at different companies within different industry areas.

Expand your industry knowledge through our industry interest groups, where you can learn about the respective industry trends, some of the big business and operations problems to solve, specialized career paths, etc.
Additionally, members are invited to take on leadership roles at WIB. Something you can speak passionately about in a future job interview!

Whether it's through joining our club's leadership team through a Board Associate or Director position; or leading a case study and coordinating industry-specific events as Head of an Industry Interest Group; this student org supports your personal and professional growth through leadership opportunities.
Available Positions in WIB's Leadership
For more information on our BA positions, feel free to reach out to the Director related to the board (in the case of Operations, please contact Tamille).
Marketing & Communications - Aditi (akaradak@ucsc.edu)
Finance - Sophie (swerwage@ucsc.edu)
WIB Member Interest Form
If you are interested in becoming a member this year, please click the following link to fill out our WIB Member Interest form (~ 2 min.) and indicate your desired membership role and industry preferences.

WIB Member Interest Form: https://forms.gle/2wAP3yrAnfH4JowP7
---
Calling at BME students: We are currently searching for members of the 2023 iGEM team. iGEM is a synthetic biology competition open to all students who will remain enrolled as for Fall 2023. This project can server as a Capstone for the BME degree and is a wonderful opportunity to participate in and design a research experiment from start to finish! If you are interested, please contact the co-captains of the 23 team: McKenna Smith (mcesmith@ucsc.edu) and Varun Kodur (vkodur@ucsc.edu) or fill out this google form https://forms.gle/nxcNmhQ64HVHaGE58. We look forward to hearing from you! 
---
The Tech4Good Lab has several positions open next quarter for undergraduate students from all majors. We are looking for people who are extremely responsible, love learning, and have a strong drive to apply technology for social good. For next quarter, we have positions doing the following types of work:
User research: interviewing and analyzing interviews to understand user needs and context, 
Usability evaluation: conducting evaluations of interfaces for usability,
UI/UX design: designing and iterating on web interfaces in Figma,
Web development: coding an app using an Angular/NgRx/Firebase stack,
AI & economics: modeling economic systems using multiagent reinforcement learning,
NLP and ML: topic modeling and ML to clusters text responses or predict annotations,
You would be contributing to a variety of projects in the lab related to designing systems to better support the future of education, work, and community engagement. Some of the platforms we are working on include:
An app aimed at scaling apprenticeship learning, which supports people in learning through micro-roles while supporting non-profits as they learn,
An app aimed at microlearning through small groups to create learning environments supporting curiosity, creativity, and relationships,
An app containing short activities for team/group community building, and also creating "small group networks" that can facilitate interesting collective goals,
An app aimed at supporting chat-based career mentorship between industry professionals and groups of students,
Joining requires a commitment of 10 hours/week for the quarter for independent study credits. If you are interested, fill out the Tech4Good Lab Interest Form and send an email to David Lee (dlee105@ucsc.edu).
P.S. Follow our Facebook or Instagram to hear about future student opportunities in Tech4Good!
---
Project Description
Climate change is raising global sea levels and threatening coasts around the world with increased risk of flooding. In California, 600,000 people are at risk of flooding in a scenario with 2 meters of sea level rise combined with a 100 year storm (Barnard et al. 2019). The population bordering San Francisco Bay accounts for two-thirds of future flooding impacts in California, and the cost of building a Bay-wide seawall for the combination of 2 meters of sea level rise and a 100 year storm could reach $450 billion (Barnard et al. 2019). There is ample evidence for the beneficial role that wetlands can play in reducing flood risks, in addition to providing other co-benefits (Narayan et al. 2017; Foster-Martinez et al. 2018; Pinsky, Guannel, and Arkema 2013; Reed et al. 2018; Callaway et al. 2012). In California and the Bay Area, there is strong interest across sectors to invest in nature-based adaptation. While coastal development has altered or removed about 90% of the Bay's historic tidal wetlands (Veloz et al. 2013), restoring part of the Bay's shoreline can help communities adapt to sea level rise. High and rising flood risk and opportunity for wetland conservation and restoration make San Francisco Bay well suited to serve as a study site for an investigation of the potential for marshes as nature-based solutions for flood defense – in particular, how marsh habitat conservation and restoration can protect the county's levee system from overtopping, breaching, and hydraulic failure. The Coastal Resilience Lab at UCSC is looking for an undergraduate student to work with graduate student Rae Taylor-Burns and professor Borja Reguero to advance this work through a mixture of field and computer tasks.
Tasks
Possible tasks include: 
•    Field surveys of Bay Area marshes and levees to create a dataset detailing levee height and vegetation types and        densities in key marshes fronting vulnerable sections of the levee system
•    Analysis of data from NOAA tide gauges and buoys to investigate historical extreme water levels in San Francisco Bay
•    Explore machine learning approaches to predict levee overtopping
•    Creation of an Esri StoryMap that showcases the work done over the summer
Compensation
If the project team is selected for the award, the undergraduate student will receive compensation of 
$4000 and will be expected to work ~200 hours on the project over the course of summer quarter. There will be an opportunity to present findings at a lab meeting at the end of the summer, and potentially other opportunities to present if the student is interested.   How to apply Please email rtaylorb@ucsc.edu by March 7 if you are interested.
Include in your email: 
•    Why you are interested in this project
•    Any relevant coursework or experience you have
---
The CITRIS Workforce Innovation Program offers the opportunity to build in-demand skills through paid eight-week internships - earn up to $6000.
You'll receive training in leadership and project management, and you will be supported throughout the program by dedicated CITRIS staff and a community of peers in your cohort.
CITRIS and the Banatao Institute invite undergraduate students from all majors at UC Santa Cruz to apply for placements in one of five areas of emerging IT innovation important to the state of California:
Aviation

✈️

Climate resilience

🌎

Digital health

🩺

Robotics

🤖

Semiconductors

💻
Internships will run from June–August 2022.
For more information join our virtual information session, Friday, March 4th
Register here: bit.ly/WIPinfo2022
Questions? Contact Carmen Robinson at crobins3@ucsc.edu 
---
SASE is has opened up their officer intern positions, where interns would be shadowing an officer and work as part of the officer team. This is a wonderful opportunity to learn how to organize for a club, develop new leadership skills, and face unique experiences and challenges that will benefit your future career! These are all things you can talk about during behavioral interviews and add to boost your resume.

Applications are open to everyone! If you are interested in applying, please fill out the form: https://tinyurl.com/SASEInternApp
---
Our next virtual M.A. in Statistics Information Session led by the Program Directors and staff is scheduled this Friday, March 4th at 3:00pm EST.

We are eager to introduce you to everything our program has to offer. In particular, we are very excited to share a new MA2PhD initiative of our program. See below for an overview of our program and more details on this new initiative with funding.

Please click on the RSVP link to register for the March 4th info session or one of our upcoming sessions.
*Note the times listed are in Eastern Time.
Our M.A. in Statistics website provides comprehensive information about our program. If you or any interested students have any questions, please do not hesitate to contact us at ma.stat@columbia.edu. Thank you and we look forward to connecting with you and answering any questions you might have about our program.
---
I am reaching out to you regarding the HFSV (Hispanic Foundation of Silicon Valley) STEM Scholarship Program, with an application deadline of March 18.
It is a long-standing program for Latin-x STEM juniors and seniors, with a long list of awardees gaining a great deal of support through it over the years.  All program details, including active application link and full information about the application process and its requirements, can be found here:  HFSV Latin-X STEM Scholarships
---
The Deans and Chancellor of UC Santa Cruz wish to recognize excellence in research and creativity among undergraduate students as evidenced through projects and theses performed in the normal pattern of academic activity at UCSC. 
The online application for the 2022 Deans' and Chancellor's Undergraduate Awards opens February 14, 2022. 
Please read the application guidelines below and contact a faculty mentor to confirm they are willing to submit a letter of recommendation on your behalf. 
All 2022 applications must be completed and submitted online by March 24, 2022. All graduating Dean's and Chancellor's winners will be recognized by having their names listed in the commencement program during UC Santa Cruz's graduation ceremonies.
Fifty undergraduates, 10 from each of the academic divisions will receive a Dean's Award of $100 for outstanding achievement in their division. Please submit your award for the BE Division by March 24th, 2022. For more information on dates and deadlines and submission guidelines look here: https://dca.ue.ucsc.edu
---
The California Policy Lab (CPL) is excited to announce that we are now accepting applications to our 2022 Summer Institute program.
CPL is hiring a cohort of talented UC undergraduates to work for 10 weeks this summer (June 13-August 19) on data-focused policy research projects. Applicants should have a background in data science, economics, statistics, or public policy, and should be well-equipped in coding and data analysis.
Participants receive a $3000 stipend and develop skills in research project planning and methods under the guidance of UC faculty. Questions can be directed to me (chris_runde@berkeley.edu). 
---
Under the auspices of the Applied Artificial Intelligence Initiative (AAII) and the Astronomy Department at UC Santa Cruz we are searching for one continuing undergraduate for a funded summer 2022 research opportunity.  The selected students will develop optimization codes using Python, Jax, tensorflow/pytorch, and Hamiltonian Monte Carlo techniques on a project related to sources known as Fast Radio Bursts. The application is open to advanced undergraduate majors in Physics, Astrophysics, and/or CSE.
Pre-requisites
Substantial experience with Python and GitHub

Advanced knowledge in statistics
Recommended but not required
Cloud computing experience

1st year college-level physics
Duration:  10 weeks from June 13 -- August 20, 2022
Please apply here:   http://www.careercenter.ucsc.edu/ers/erspub/main.cfm 
 and search out ER#19505. 

Contact   xavier@ucolick.org  for additional details
---
The Hispanic Association of Colleges and Universities is accepting applications from undergraduate and graduate students to participate in a virtual Emerging Leaders' Summit on March 12, 2022, from 9 a.m.-3 p.m. PDT. The online event is being presented in partnership with the University of California Merced for students enrolled at HACU-member institutions, located in California. Eligible students must have a minimum 3.0 GPA.
The one-day virtual Summit offers:
Career development workshops designed for students majoring in STEM, business, and liberal arts.
Topics will focus on career opportunities, tips for resume writing, interviewing, and securing internships.
Students will have an opportunity to meet with corporate and federal employers in attendance.
Click here for the application.
Please share this information with students at your institution who may be interested in participating. Download a PDF flyer, click here. Application deadline is February 28, 2022.
For more information visit https://www.hacu.net/hacu/EmergingLeaders.asp.
---
Dear Students,
We would like to share with you an incredible academic support program at UC Santa Cruz called the Academic Excellence (ACE) Program!
ACE is a community of students dedicated to academic excellence who work together in active learning sessions and peer mentoring sessions to help each other master the concepts taught in class. Not only do ACE students pass their classes at higher rates, but they also tend to earn more A and B grades than non-ACE students. You may Visit our website to learn more about the ACE Program.
This spring, ACE will be supporting a variety of science and math courses, listed on our ACE Session Schedule page. Also - don't forget to check out our ACE  student testimonials video to see what our students say about ACE!
To apply: visit our Online Application 
Applications are due on Friday, March 18th
Space is limited, so we recommend applying sooner rather than later!
Why Join ACE?
---
Driscoll is offering a paid summer research internship, close to Santa Cruz. The intern will be working on pangenomics of one or two berry breeding populations at Driscoll's research campus by Watsonville. Planned two or three days per week on-site, pandemic permitting. Ideal candidate would have experience in stats or analysis pipelines, genomics familiarity a bonus, and a willingness to experiment. Learn more at https://www.driscolls.com/about/careers/job?id=R0004361
---
The Genomics Institute has two exciting opportunities for students interested in computational genomics research.
The first is a paid mentorship with Xena (our cancer browser) that is specifically for underrepresented students. Participating in the Xena project will enable students to gain experience in open source development with an emphasis on genomic and biomedical applications. 
The second is an independent study opportunity for course credit with our Computational Genomics Lab, doing research with biomedical data and machine learning (flyer attached)
Students can apply for both opportunities using our Undergraduate Research Assistant Application Form.
---
---
AnitaB.org is excited to share the opportunity to apply for you, your colleagues, and students at University of California-Santa Cruz to apply for a GHC Scholarship!
AnitaB.org is committed to providing women with the resources they need to build a rewarding career in technology. One way we fulfill this commitment is through our flagship event, Grace Hopper Celebration (GHC), the world's largest gathering of women and non-binary technologists, where people from around the world learn, network, and celebrate their achievements.
The GHC Student and Faculty Scholarship provides scholarships for women and non-binary individuals who are either undergraduate students, graduate students, post-doc students, or faculty to attend GHC. 
Scholars receive:
·Complimentary registrations to attend the virtual component of the annual Grace Hopper Celebration (GHC)
·Professional development
·Access to networking events
How to share the opportunity:
·Use our sharing toolkit to spread the word with your network via social media or email to encourage others to apply for a GHC Scholarship.
Don't delay – GHC Scholarship applications close March 9th!
If you have any questions, please reach out to us at GHCScholarshipContact@AnitaB.org. Thank you in advance for your support. We look forward to seeing you and your community at GHC 22!
---
Jobs
---
---
---
Join Digital Dynamics to start or enrich your career in an exciting and innovative culture.
DDI is a growing technology company located in beautiful Scotts Valley, only minutes from Santa Cruz and Silicon Valley. Our company designs, manufactures and sells advanced controls solutions for demanding global industries. DDI technology controls billions of dollars of mission critical equipment in factories worldwide.
We offer competitive salaries and benefits. DDI is an employee-owned (ESOP) company where employees earn equity as part of their benefit package. Please use this link to apply to open positions: https://www.digitaldynamics.com/careers
---
I am looking to employ a college graduate for a position as robotics expert in Los Angeles for my company, Hollywood Special Ops. You can see what we do at www.hollywoodspecialops.com. We've recently purchased a "Mia" six axis robot arm by Motorized Precision with hardware by Kuka and we want to hire someone to be its partner. We do high end specialty camera work for television, ads, and motion picture. This will be a very fun job for the right person. Please let me know if you can point me in the right direction. Best way to reach me is by phone (818-648-6572) or email drew@hollywoodspecialops.com
Thx!
Drew Lauer
Hollywood Special Ops
cell    (818) 648-6572
---
We've collected all the new job postings from the network and wanted to share with all of you in case you were looking for new opportunities or know someone in your network who is.

If you are interested in any, you can click the links below to learn more.

And if you want to get involved in Alchemist in any other ways, please fill out this form and we will loop you into the program where relevant.
 

11Sight: Inbound Video Call and Customer Engagement Platform for Revenue Teams. (Remote; 11 - 50 Employees)
Product Marketing Manager Learn More
Partner Marketing Manager Learn More
Senior Software Engineer Learn More
AltComm: AI-Powered Patient-Provider Communication Platform. (US / Remote; 1 - 10 Employees)
Head of Engineering / CTO / Technical CoFounder Learn More
Front-end iOS Engineer Learn More
Autify, Inc.: AI-Powered Software Testing Automation Platform. (USA (Remote; 11 - 50 Employees)
Marketing Manager Learn More
Senior Technical Support Engineer Learn More
Customer Success Engineer Learn More
DigiFabster: Shopify for Custom Manufacturing Businesses. (Remote/US; 11 - 50 Employees)
Inside Sales Representative / US (Mid West, Central, South East) Learn More
Electric Vehicle Ecosystem: An E-Mobility Analytics Solution Used to Assess, Track & Improve Corporate Fleet Electrification Strategies Globally. (Dublin, Ireland (Remote); 1 - 10 Employees)
COO Learn More
Eunimart: A Full-Service Integrated Ecommerce Platform that Enables Centralized Management of Online Stores on Any Marketplace. (US, Remote; 51 - 200 Employees)
Sales Manager Learn More
Glidian: Revolutionizing the Healthcare Industry by Fixing One of Its Most Broken Processes: Prior Authorizations. (Remote; 11 - 50 Employees)
Software Engineer Learn More
Manager of Marketing Learn More
Fullstack Developer Learn More
L Marks: Launched Over 70 Innovation Programmes Across the UK, Europe, Israel, Asia, and the US. (New York, NY; 11 - 50 Employees)
Intrapreneurship Program Coordinator Learn More
NachoNacho: B2B SaaS Marketplace Enabled by Fintech. (San Francisco Bay Area, CA, Remote; 1 - 10 Employees)
Brand Marketing Designer Learn More
Backend Software Engineer Learn More
Marketing Manager Learn More
Business Development & Growth Manager Learn More
Full Stack Software Engineer Learn More
Growth Marketer Learn More
Sales Executive Learn More
Business Development Learn More
Business Development Rep (BDR) - SMBs Learn More
VP, Marketing Learn More
Business Analyst & Operations Manager Learn More
Puloli: Private IoT Networks. (San Francisco, CA; 1 - 10 Employees)
Senior Software Engineer Learn More
Siro: Uses Speech Recognition to Analyze Sales Conversations and Scale Sales Coaching. (New York City / Remote Friendly; 1 -10 Employees)
Founding Engineer Learn More
Slingshot Ahead Inc.: We Place High School Prodigies at Top Startups and Companies. (Remote; 11 - 50 Employees)
VP, Operations and Growth Learn More
Stellic: The Platform to Design and Manage Student Pathways in Universities and Colleges. (San Francisco, CA, Remote; 11 - 50 Employees)
Head of Partner Success Learn More
Tazi.ai: Automated Machine Learning Platform. (US-San Francisco, CA; 11 - 50 Employees)
VP of Sales-Insurance Learn More
The Bright App: The Leading Mobile App for 1-1 Private Training in the World. (Remote / San Diego, CA; 1 - 10 Employees)
Biz Dev Learn More
Sales Rep Learn More
VIPficated: Technology to Support Circular Economy of Luxury Pre-Owned Stuff Applicable in Well-Known Marketplaces Around the World. (Any; 1 - 10 Employees)
CTO Learn More
Walrus Security: Keeps Push Payments Safe by Developing and Deploying Novel Authentication Technology in a Low-Friction Platform. (Anywhere; New York City preferred (not required); 1 - 10 Employees)
Chief Business Officer Learn More
Senior Operations Associate Learn More
Senior Full Stack Engineer Learn More
Business Operations Manager (Remote) Learn More
Front-End Developer or Senior Front-End Developer Learn More
Full Stack Developer Learn More
ZaiNar: Real-Time 3D Location Tracking. (Redwood City, CA, Belmont City, CA or Remote; 11 - 50 Employees)
Signal Processing Engineer Learn More
RF Electronic Engineer Learn More
Program Manager Learn More
Parts Buyer & Expeditor (part time) Learn More
Hardware Lab Technician Learn More
Embedded Software Engineer Learn More
Electronic Engineer Learn More
5G Systems Engineer Learn More
---
A research team in computational media is looking to recruit computer science students for a user study investigating the impact of reflection on gameplay and learning in the context of an educational game. 
If you choose to participate, you will respond to a couple of surveys, play several levels of a puzzle game that teaches parallel programming, record your screen during gameplay and send us the recording, and respond to reflection prompts regarding your gameplay. 
Parallel programming knowledge or experience are NOT required!
Participation will take several hours spread across 2-3 weeks. Participants will receive a 20$ gift card as compensation after the first few steps, and a 30$ gift card if they complete the entire study.
You must be 18 years of age or older and located in the US. You may not participate in this study again if you have already participated in it once.
If you are interested in participating, please fill out this form: https://forms.gle/DpQWyGYaM2kQ4d7D6 
---
The Student Employment Coordinator at the Educational Partnership Center at UC Santa Cruz responsible for hiring student employees for our various outreach programs. A couple of the positions we are hiring for are listed below:
Academic Intern ER #2808
Serve as tutors and advisors in the local middle and high schools in the Watsonville area.  This is a paid Internship program offering about 16-18 hours of work a week at $16 per hour.  
COSMOS Resident Advisor ER #4656
The California State Summer School for Mathematics and Science (COSMOS) Programs is offering summer positions for students on campus (UCSC). These summer positions pay $16-$17, including housing and meals. This position begins June 6 - August 6, 2022.
Please contact Victoria Vasquez-Alvares at vvasque6@ucsc.edu if interested, or call at 831-227-3894. 
---